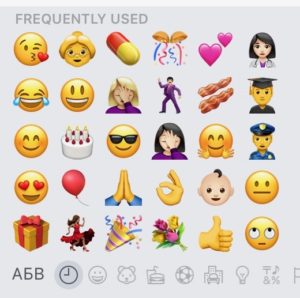 This image is a screenshot of a particularly good week I was having about a year ago. That's when I first had the idea to write this post. I was also at an inflection point in my career, being a mom of toddlers, and being a wife. There was a lot to celebrate at the time and I managed to capture it all in these colloquially expressive bite-sized cartoons. Without having to do much more than think "Quick! Pick an emoji that's easier than typing actual words I'm feeling" I began to rely heavily on a feature that I'd previously scorned. I was feeling stuck and limited on time and ability, so I used emojis as a crutch. I still use them.
I had just finished the wonderful reference book Sh*tty Mom and found so many gems that it became a useful resource for the many instances where my overeducated, under-caffeinated self found relatable, no-judgement refuge. These parenting feats were usually represented by the palm-to-face emoji.
The dancer emojis depict one of the first date nights I was were able to have with my husband as soon as my daughter graduated from breastfeeding to sleeping through the night. We used to enjoy ballroom dancing bk* but it was one of those hobbies that fell to the wayside because my favorite activity is now sleep.
I don't remember specifics around the bacon emoji reference but I believe it was a test to see if the recipient of that text message was able to smell bacon. I have't a clue what the doc could be for – I try my best to avoid them.
Could this be a clever new way to document (the spiraling descent) of our lives in parenthood? Passing through a reel of such screenshots, I might be able to stitch together the story of how I got to where I'm going today. If only my brain wasn't so fuzzy. The details got lost when replacing all my long-winded thoughts with the stroke of one easy picture. Maybe I was too busy living in the moment to care if it was cheating. Thankfully, guilt doesn't look good on me and in The Fifth Trimester, my friend Lauren Brody also poo-poos the need for guilt today, that settles it. I'll have to ask Lauren if she's ever thought of journaling her emojis…
*bk = before kids